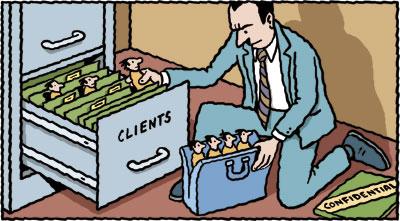 Professional services company Price Waterhouse Coopers (PWC) was widely quoted in the press last year after saying that 70 percent of small firms that experience a major data loss go out of business within a year. This stat may be 18 months old now, but the reality facing small to medium sized businesses (SMBs) is no different today. Even if PWC's business bankruptcy claims were too strong, serious financial losses in the case of a data breach are a near certainty.
The fact is that the "total" cost of an IT security breach can be far higher than companies might at first imagine.
Often, the first people to notice the effects of a data breach will be a company's customers; so the impact this has on client confidence can be substantial. As electronic commerce has become the norm for business transactions at every level, customers are rightly wary of dealing with a breached company. When it comes to data breaches, prevention really is the only cure.
Remedial action
The immediate aftermath of an IT security breach sees a company "drop everything" and try to fix the problem that has occurred and also mitigate further risk. The source of the breach will need to be identified and weaknesses will need to be patched, plugged and made sound. The firm may also need to contact a lawyer at this point to agree on its legal position and this is never a cheap thing to do.
The loss of business in terms trading time is felt hard.
Of course finding the problem is only part of the challenge here. Next the compromised company will need to install robust anti-malware protection, encrypt sensitive data, lay down an employee security policy and so on. Basically, the business has to undertake all the things that should have been done in the first place.
Once again, the loss of business in terms trading time here is felt hard.
Even after fixes have been carried out and even if firewall and anti-malware protection has been put in place, credibility in the marketplace may have been lost and customer confidence has to be won once more – and this takes time. Crucially, this process also takes time and money (think advertising, marketing, corporate promotions and entertainment etc.)
You can't escape the facts; the loss of business in terms trading time and additional expenditure will have a direct impact on the firm's bottom line.
Just as there is no such thing as a free lunch, undeniable economic certainties govern a company's approach to IT security software – It will cost more to fix a breach than insure against it happening. This can be done by taking a number of steps, including purchasing licenses for anti-virus software. Given the prevalence of malware today and our global shift to electronic business practices this truism should resonate as long as any home truth you choose.
What factor makes a great property purchase opportunity? Location, location, location. What factor makes a safe small business trading opportunity? Security, security, security.